[ad_1]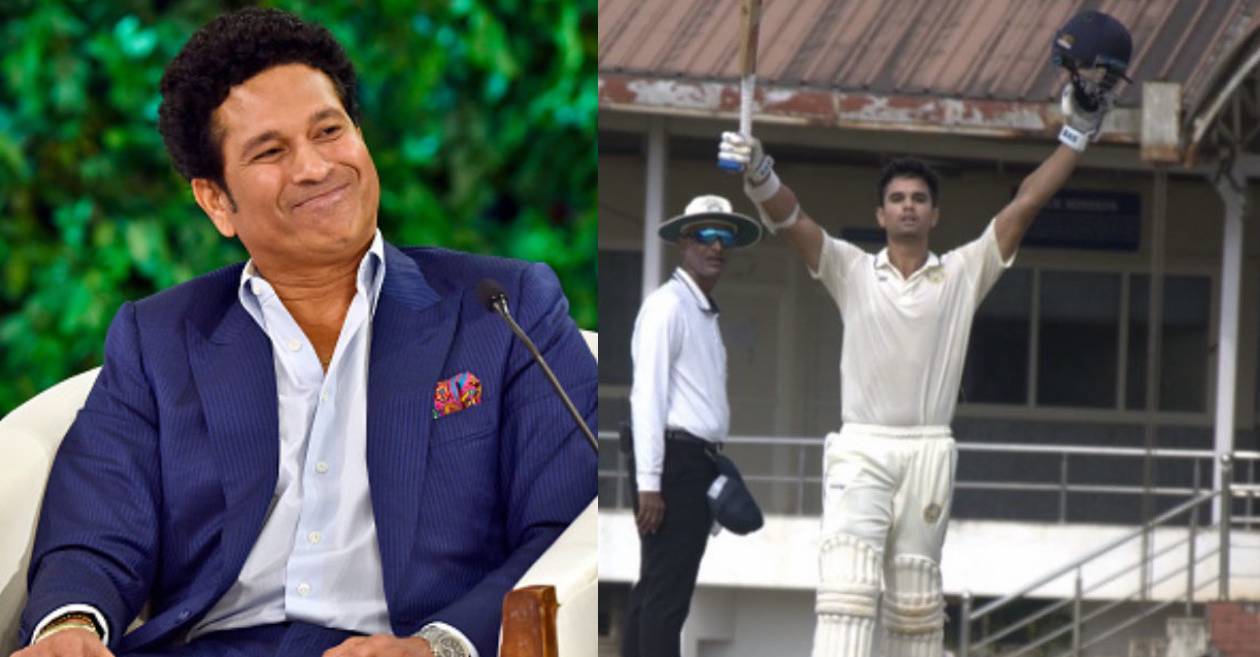 Arjun Tendulkar, playing for Goa in the Ranji Trophy 2022-23, recently matched his legendary father Sachin Tendulkar by scoring a century on his first-class debut.
Batting at No.7, the 23-year-old Arjun made 120 from 207 deliveries against Rajasthan, while 34 years ago, Sachin smashed an unbeaten hundred for Mumbai against Gujarat at the age of 15.
Arjun, who is primarily a fast bowler, moved to Goa from Mumbai at the start of the season seeking more opportunities to feature in the domestic circuit.
The left-hander has so far played seven List A games and nine T20s but the ongoing contest against Rajasthan is his first in red-ball cricket. Arjun was Goa's joint leading wicket-taker with eight scalps in the 50-overs Vijay Hazare Trophy this year.
While everyone is just hailing the young all-rounder for his heroics on FC debut, Sachin also gave his first reaction to Arjun's knock.
Speaking at an event organized by Infosys, the Master Blaster said: "It is a tough question nobody has asked me. As a father, I remember hearing my father tell someone – this was when I had started playing for India, & someone introduced him to 'Sachin Father kar ke' and he heard that then my father's friend asked him how he feels. He said it's the proudest moment of my life because this is what fathers want to be – to be recognised by what your child has done."
He added: "Arjun has not led a normal childhood. Being a son of a cricketer who's been around for quite some time, it's not so easy. That's the only reason, when I retired and I was felicitated by the media in Mumbai, my message to them was to allow Arjun to fall in love with cricket, and give him that opportunity. You can follow up with various statements after he's performed, don't try to put pressure on him because I never had that pressure from my parents.
"They gave me the freedom to go out and express myself. There was no pressure of expectations, only encouragement, and support, and how we could go out and better ourselves. I kept telling him (Arjun), 'it's going to be challenging. You're not going to change the whole world. We have to change the mindset'. It hasn't been an easy ride for him, it's been a tough journey for him. Someone who can relate to him is possibly Rohan Gavaskar."
Sachin also revealed his conversation with Arjun at the end of Day 1 of the match.
"I did tell him (to go for 100). He was batting on 4 not out, he was sent as a night watchman. He asked, 'what do you think would be a good total?' They were 210/5 down. I said, 'at least 375 is what you need to get to'. And he said, 'are you sure?' I replied, 'yeah. you need to go out and get a hundred. Do you believe you can go out and get a 100?'," the Mumbaikar signed off.
[ad_2]
#father #remember #Sachin #Tendulkars #reaction #son #Arjuns #maiden #century #debut