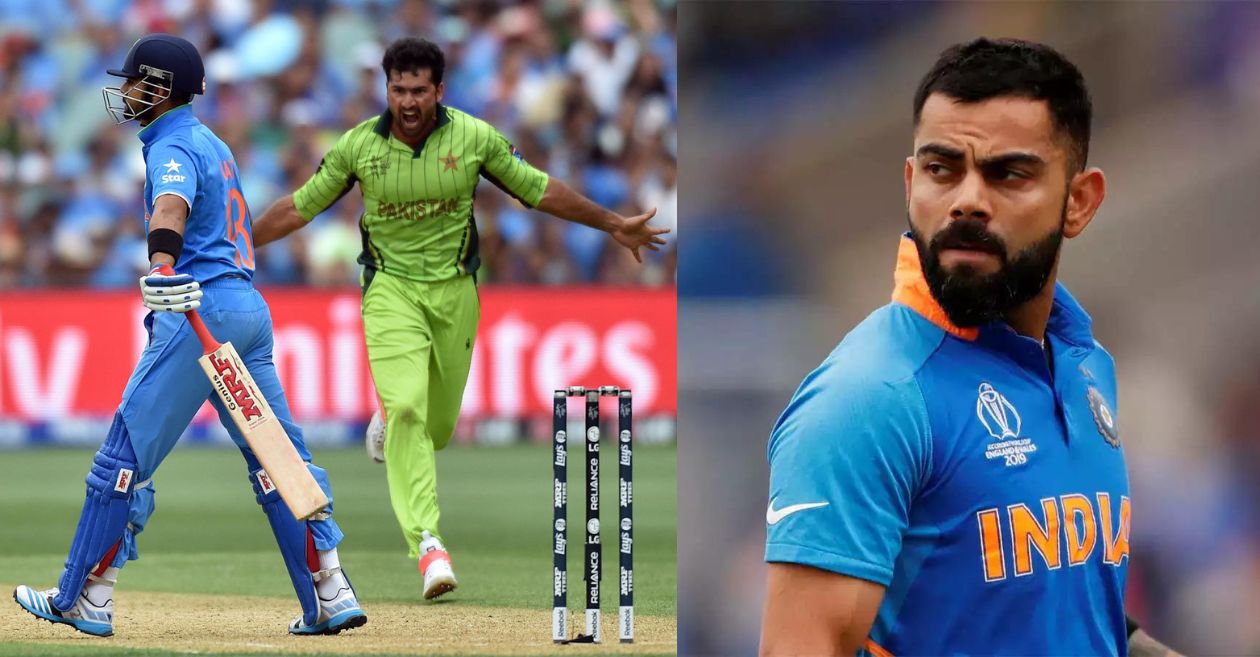 Pakistan fast bowler Sohail Khan has been subject to huge criticism by cricket fans over his controversial remarks on India's modern-day legend Virat Kohli. In an interview, Sohail revealed one of his heated arguments with Kohli during a 2015 ICC Men's ODI World Cup match. However, his revelation put him on the target of cricket enthusiasts.
Sohail has appeared for Pakistan in 9 Tests, 13 ODIs and five T20Is, and his only five wicket-haul in a 50-overs format came against India in the same 2015 world cup game about which he talked in the interview. The 38-year-old pacer in the match took the wickets of Kohli, MS Dhoni, Suresh Raina and Ajinkya Rahane.
Talking about an incident from the encounter, Sohail told the interviewee about how he indulged in a heated verbal spat with then-India vice-captain Virat, who approached him and said that the right-arm pacer had just started playing cricket and shouldn't be speaking too much.
Sohail further revealed that he already had played Test matches in 2006-07 but was forced out of action due to a knee injury, so he replied to Virat in a stern tone.
"Virat came. He said to me 'Aap cricket mein abhi aaye hain. And itni baatein karte ho (You've just arrived, and you speak so much)," revealed Sohail on the Nadir Ali podcast.
"I said, 'Beta jab tu Under-19 khel raha tha na, tera baap Test cricketer tha '(Son, when you were playing Under-19 for India, your father was a Test player) That's how I said it. Then, if you look carefully, Misbah intervened, and he got angry at me. He asked me to keep quiet," he added.
Soon after the podcast was released, Sohail faced the wrath of many sports fans across the globe, and some also didn't shy away from trolling the former Pakistan cricketer on social media.
Here's how Twitter reacted:
Sohail Khan didn't play even 10 matches in any of the three formats.
Virat has more centuries than number of matches he played in all formats. He is the father of whole Pakistan cricket team. His networth is more than the valuation of PSL. pic.twitter.com/lkRw3cKxid

— Mayank Pandey (@Mayank_Pandey__) February 3, 2023
han bhai but who Sohail Khan? pic.twitter.com/eq9pDJZbpP

— मंदोदरी 🌈🇱🇰 (@Mrs_Raavan_) February 2, 2023
Sohail Khan tryna gas it up. He don't know you like that.

He owns the green. pic.twitter.com/JP5USw4Hxz

— nithin (@nithin_virgil) February 2, 2023
Guy on the left is Sohail Khan who I have no memories of apart from 2015 WC, is ranting and crying on guy on the right Virat Kohli.

Day started with full jokes and comedy of the highest order. #ViratKohli pic.twitter.com/EN0qKwZEwl

— Avinash (@imavinashvk) February 2, 2023
Kohli's Stats as on 15 Feb 2015
33 Tests, 2547 runs at 46.30
151 ODIs, 6339 runs at 51.95
Most runs by an Indian in International cricket since his debut

Sohail Khan's entire career: 9 Tests, 13 ODIs, 5 T20Is
As on 15 Feb 2015: 2 Tests, 5 ODIs, 3 T20Is
pic.twitter.com/PvGr2FQfwe

— Cricketopia (@CricketopiaCom) February 3, 2023
#SohailKhan 😭😭 He is pure clown 🤣☠️#ViratKohli𓃵 pic.twitter.com/AnpiVSshtB

— TantyaBicchhu (@TheOneWhooAsKed) February 2, 2023
The only Sohail Khan we know. Even the Google know this Sohail Khan only. pic.twitter.com/IOKsWbc0Lm

— Vikrant Dhenge (@vikrantdhenge) February 4, 2023
Not surprising Virat didn't know about Sohail Khan in 2015. I didn't even remember him playing 2015 either and had to Google him to find out who he was.

— Sid (@sid_2893) February 3, 2023
Virat ne first ODI 2008 me khelaa aur Sohail Khan ne 2009 me , to Abbu kaun hua ,batao https://t.co/lZ07K1Ho7o

— Vivek Mishraa (@TriveniWasi) February 3, 2023
— I mean it (@NucleusDevi) February 3, 2023



#Fans #lambast #Pakistan #pacer #Sohail #Khan #controversial #comments #Virat #Kohli