[ad_1]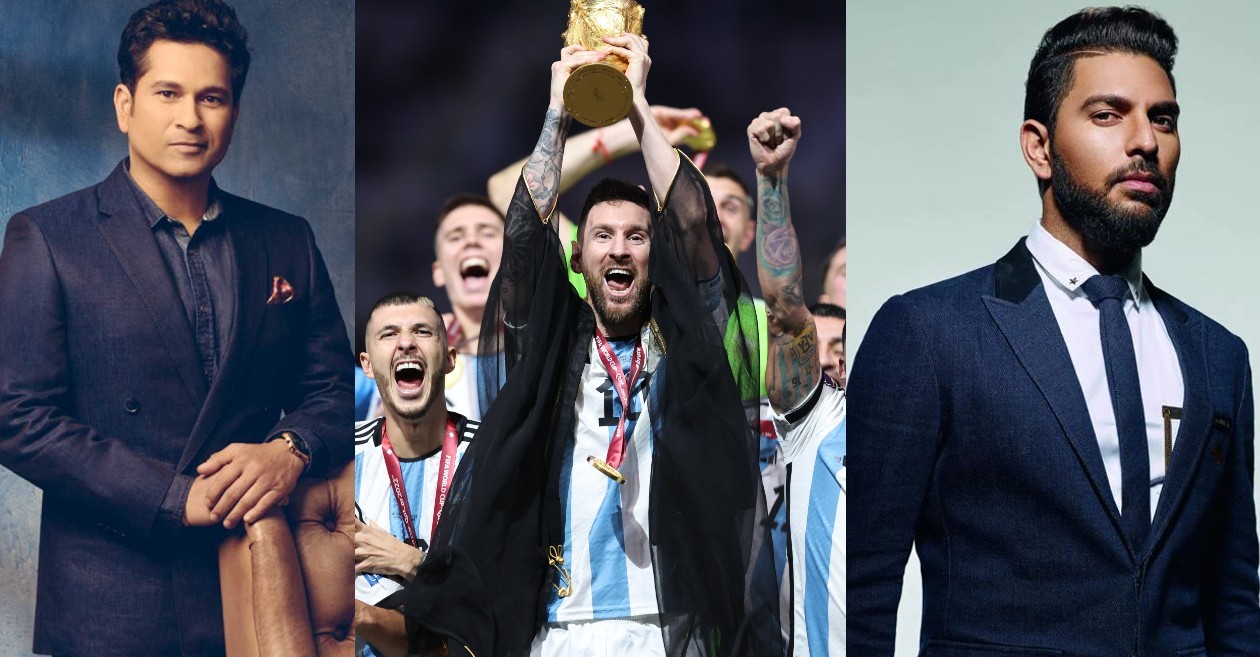 Cricketers and their love for football is an established phenomenon, and it was on display once again when the highly-anticipated FIFA World Cup final took place between France and Argentina. Cricketers from all corners were spotted rooting for their favourite team and enjoying the thrilling contest.
Lionel Messi-led Argentina defeated France in a penalty shootout by 4-2 and ended the nation's wait of 36 years for their third FIFA World Cup title at Lusail Stadium in Qatar. Both sides have scored two goals each, and the match went into extra time. Messi then struck in the 108th minute before Mbappe equalled the equation in the 118th minute as the contest was still hanging in the balance with a 3-3 scoreline. Finally, the fate of the match was sealed by a penalty shootout where Argentina got the better of France.
ARGENTINA ARE WORLD CHAMPIONS!! 🇦🇷#FIFAWorldCup | #Qatar2022

— FIFA World Cup (@FIFAWorldCup) December 18, 2022
Argentina captain Messi, who scored two out of the team's three goals in the final, won the 'Golden Ball' award for being the Player of the Tournament. Following the thrilling encounter, the cricketers shared their reactions on social media platforms.
Legendary Indian cricketer Sachin Tendulkar congratulated Argentina and heaped praises on their skipper Messi along with the goalkeeper Martinez.
"Many congratulations to Argentina on doing this for Messi! Wonderful comeback from the way they started the campaign. Special mention to Martinez for the spectacular save towards the end of extra time. That was a clear indication to me that Argentina would clinch this," wrote Tendulkar on Twitter.
Many congratulations to Argentina on doing this for Messi! Wonderful comeback from the way they started the campaign.

Special mention to Martinez for the spectacular save towards the end of extra time. That was a clear indication to me that Argentina would clinch this. pic.twitter.com/KoXOTl1fSE

— Sachin Tendulkar (@sachin_rt) December 18, 2022
Former India all-rounder Yuvraj Singh reminisced the 2011 World Cup win of Team India while congratulating Messi and his team. He wrote: "Unbelievable game of football! Hard to express in words what it means to #messi, and Argentina took me back to memory lane when a special bunch of boys did it for no 10 !! #2011 Congratulations to all the Argentinian fans out there #FIFAWorldCupFinal @KMbappe."
Unbelievable game of football! Hard to express in words what it means to #messi and Argentina 🇦🇷 took me back to memory lane when a special bunch of boys did it for no 10 !! #2011 🇮🇳 Congratulations to all the Argentinian fans out there 👏 #FIFAWorldCupFinal @KMbappe 🙌🏼

— Yuvraj Singh (@YUVSTRONG12) December 18, 2022
Here is how others reacted:
PHENOMENAL VICTORY! Well deserved 🇦🇷 pic.twitter.com/6hHrXIDUd2

— Haris Rauf (@HarisRauf14) December 18, 2022
The greatest game of football to bid farewell to the greatest ever! Nail biting from start to finish, it couldn't get better than this! Congratulations #Argentina 👏 #FIFAWorldCup pic.twitter.com/tKurUmDWvj

— Jasprit Bumrah (@Jaspritbumrah93) December 18, 2022
What an unbelievable game! #Argentina you are the #FIFAWorldCup champions. #Messi vs #Mbappe was the highlight. Messi is undisputed GOAT of his generation. Like Pele, Maradona before him ♥️ pic.twitter.com/GRqOSXcQHD

— Ravi Shastri (@RaviShastriOfc) December 18, 2022
What a game, what a FINAL!! 👏🏼
Congratulations to all the @afa supporters out there, an ideal finish to a great journey full of #Messi𓃵 moments😍

Kudos to the future superstar @KMbappe for putting up a great fight, well deserved victory for #Argentina in the end👍🏼#FIFAWorldCup pic.twitter.com/lziBP1AJ7L

— Wahab Riaz (@WahabViki) December 18, 2022
What an amazing World Cup Final. Feel for Mbappe – scoring a hat-trick in a World Cup Final and ending up on the losing side. Congratulations to Lionel Messi and Argentina on an incredible win, first in 36 years , a fitting tribute to the great Maradonna. #FIFAWorldCup pic.twitter.com/oJZtnNhNga

— VVS Laxman (@VVSLaxman281) December 18, 2022
Fantastic Final. Fitting end. Congratulations to Argentina and #Messi #FIFAWorldCup

— Anil Kumble (@anilkumble1074) December 18, 2022
One of the greatest World Cup games of all time. Mbappe was outstanding for France but it was meant to be Lionel Messi's crowning moment. Congratulations Argentina on becoming the #FIFAWorldCup champions.

— Virender Sehwag (@virendersehwag) December 18, 2022
— Sam Billings (@sambillings) December 19, 2022
I don't remember when i had goosebumps watching another sport …. But this finals was amazing .

I loved it

Thanks FOOTBALL ❤️❤️❤️❤️❤️#Messi𓃵 #Mbappe𓃵 #FIFAInTheHouse #FIFAWorldCup2022

— DK (@DineshKarthik) December 18, 2022
What a match! One of the best if not the best game of football I've ever seen! Congratulations Argentina and Messi.. simply outstanding 👏👏👏 pic.twitter.com/Fpn0yJDkwm

— Shreyas Iyer (@ShreyasIyer15) December 18, 2022
🐐🙏🏻 pic.twitter.com/AKq2Vk1Aax

— Yuzvendra Chahal (@yuzi_chahal) December 18, 2022
What a final .. well deserved Messi and Team Argentina 🇦🇷 ⚽️ ❤️ Greatest of all time #WorldCup #FIFAWorldCupFinal #Messi pic.twitter.com/9gBqSGySfm

— Harbhajan Turbanator (@harbhajan_singh) December 18, 2022
Congratulations Argentina for FIFA worldcup 2022 🏆 What an exciting match ❤️❤️ love it 🥰
.#fifaworldcup2022 #argentina #mdshami11 #france #leomessi pic.twitter.com/u2vr5ThuiI

— Mohammad Shami (@MdShami11) December 18, 2022
The GREATEST of all time @leomessi ♥️🇦🇷#Messi𓃵 . pic.twitter.com/oRMkp5gqb7

— Kuldeep yadav (@imkuldeep18) December 18, 2022
The GREATEST of all time Leo Messi
SIIIIIIUUUUUUU pic.twitter.com/HMgu6Kl085

— Shubman Gill (@ShubmanGill) December 18, 2022
What a sensational final.
Probably the best.

— Shoaib Akhtar (@shoaib100mph) December 18, 2022


[ad_2]
#Sachin #Tendulkar #Yuvraj #Singh #Cricket #fraternity #reacts #Lionel #Messiled #Argentia #win #FIFA