[ad_1]

2022 has been the year of mass exit from stablecoins as more than $14.3 billion has been redeemed from these tokens since March.
Total Stablecoin Supply Is Down 8% From March 2022 Peak
According to the latest weekly report from Glassnode, the stables observed expansion throughout 2020 and 2021. The relevant indicator here is the "stablecoin supply net position change," which measures the net amount of capital flowing into or out of these fiat-tied tokens.
When the value of this metric is positive, it means the total supply of these assets is increasing in size right now as more tokens are being minted. On the other hand, negative values imply a net amount of capital is leaving this sector as investors are redeeming their stables for fiat currently.
Now, here is a chart that shows the trend in the stablecoin supply net position change over the last few years: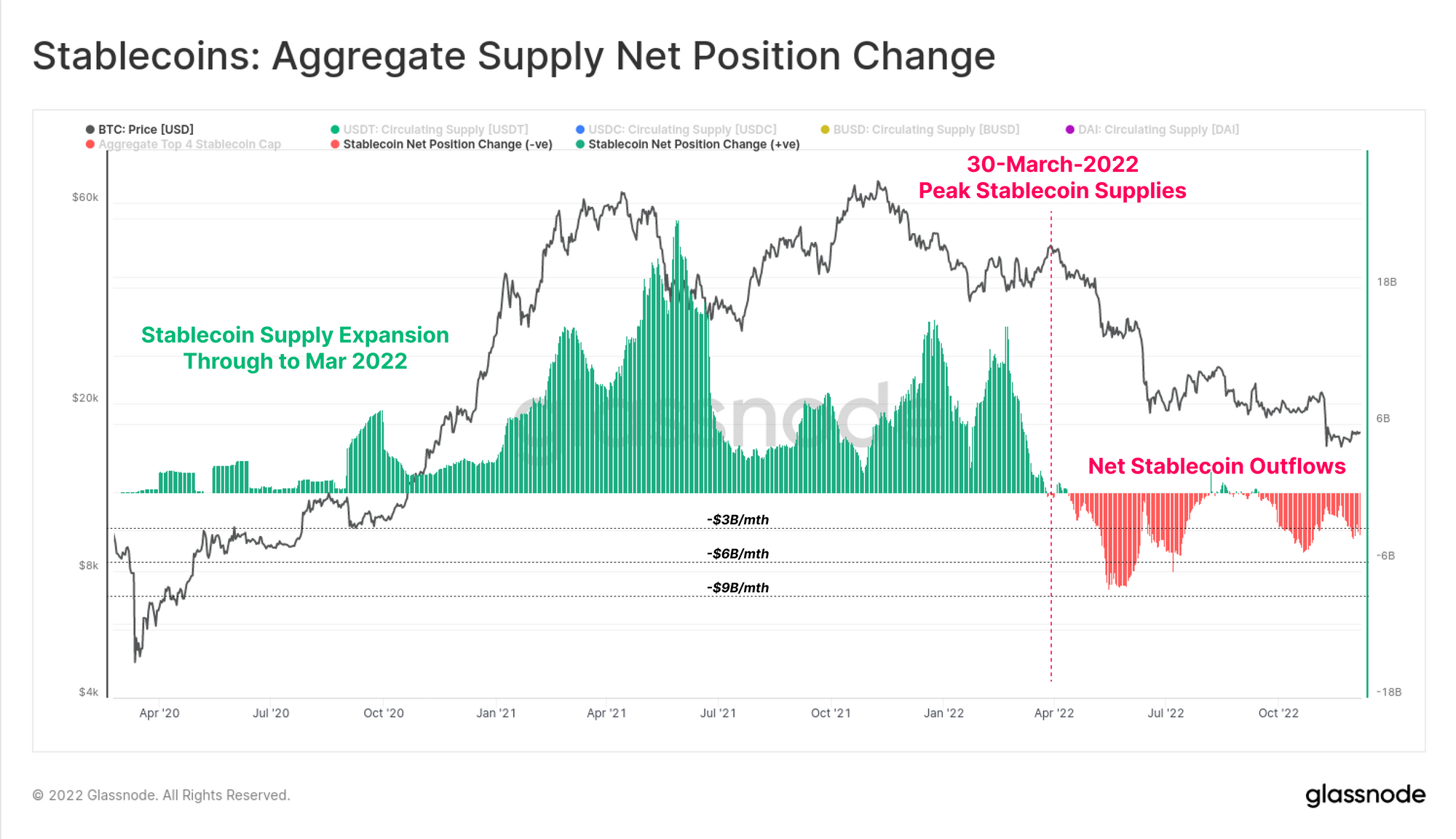 Looks like the value of this metric has been red in recent days | Source: Glassnode's The Week Onchain - Week 50, 2022
As the above graph shows, the supply of stablecoins saw a net increase throughout 2020 and 2021, with the latter year observing an especially rapid growth. This trend of green net position change in these tokens' supply continued into the first quarter of 2022, and by the end of March, the metric hit a peak of $161.5 billion.
Following that, however, the trend started to flip and capital began to flow out of the stablecoin sector. This decrease in the assets' total supply has continued through the rest of the year, and in total, holders have redeemed more than $14.3 billion worth of these tokens. This drawdown corresponds to around 8% of the peak supply seen back in March, which means that although the redemptions have been significant, the majority of the capital is still inside these stablecoins.
One of the main reasons that investors have been withdrawing from these digital dollar tokens is the collapse of Terra USD (UST) back in May of this year. A stablecoin, which is supposed to remain "stable" in value, suddenly losing everything put a real scare in the market. From the chart, it's apparent that the peak redemptions occurred just after the death of UST.
USDD, another stablecoin that functions on a model similar to the now defunct UST, went below its $1 peg following the FTX crash and is yet to recover back to it. Recently, it slipped even further away from this level, making investors wonder whether the stablecoin is headed on the same path as Terra USD. However, in the past day, the token seems to have seen some recovery above these recent lows.
USDD price remains below peg | Source: USDD/USDT on TradingView.com
At the time of writing, USDD was exchanging hands at a below-peg value of $0.9822, down 0.27% in the last 24 hours.
[ad_2]
#Stablecoin #Exit #Billion #Redeemed #March